Outfit Ideas for the Cheltenham Festival
How to dress the part for Cheltenham races with men's and ladies' outfits for big and small budgets!
The Cheltenham Festival is one of the more relaxed occasions in the racing calendar, partly due to the season's unpredictable weather, but that doesn't mean you can't dress to impress. There is no official dress code so many racegoers dress smartly but tend to keep the weather in mind! Think smart country tweeds with splashes of colour, warm hats, and stylish yet practical footwear.
And with Cheltenham 2019 just a few weeks away, we've put together some on-trend outfit suggestions for a superb, stylish day at the races.
Blue hues are very much a part of our first outfit for Cheltenham 2019. Paired with a subtle tweed, they make a statement without going over the top.
Classic country outfitters Dubarry and Barbour feature here alongside slightly newer but no less in-demand brands such as Helen Moore, Annabel Brocks and Hicks & Brown for some suitably stylish accessories. A tall boot such as Ariat's slim-fitting waterproof Alora will be sure to see you through the day in both comfort and style.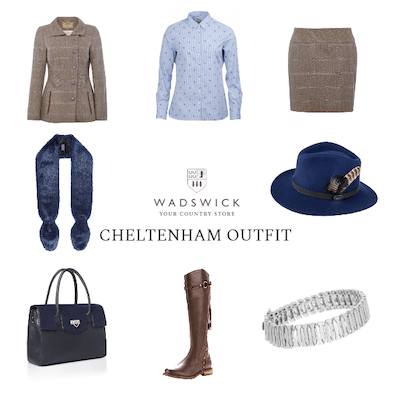 Items:
Dubarry Moorland Tweed Jacket, Woodrose, £379
Barbour Malvern Shirt, £69.95
Dubarry Bellflower Tweed Skirt, Woodrose, £149
Helen Moore Faux Fur Slim Vixen Scarf, £69.95
Hicks & Brown Suffolk Fedora, Navy, £89
Fairfax & Favor Loxley Shoulder Bag, £395
Ariat Alora Boot, Cordovan, £300
Falabella Farrier Nail Bracelet, £279

Be the queen of style with on-trend oxblood colourings. This gorgeous deep colour has definitely been a favourite this season finding it's way into footwear and accessories such as the Fairfax & Favor collection and into tweeds such as this elegant Musto Fairford jacket. Pair with a few paler items and you'll be on to a winner.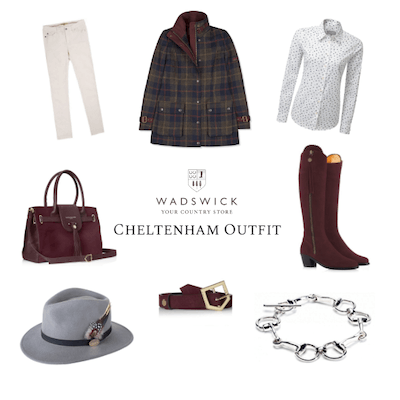 Items:
Dubarry Honeysuckle Jeans, £99
Musto Fairford Tweed, Woodland Check, £399.95 (this jacket is now out of stock but you could try the Joules Carolyn Swing Tweed)
Schoffel Norfolk Shirt, £69.95
Fairfax & Favor The Windsor handbag, Oxblood, £265
Fairfax & Favor Regina Heeled Boots, Oxblood, £345
Hicks & Brown Suffolk Fedora, £89
Fairfax & Favor Sennowe Belt, Oxblood, £55
Hiho Silver Classic Snaffle Bracelet, £235
Outfit 3: What to Wear to Cheltenham Festival on a Budget!
We can't splash out all the time, so if you're looking for a wardrobe update without spending the earth look no further. We love these Tilley & Grace reversible wraps. They're super soft and cosy so perfect for an early spring day and can be dressed up or down depending on the occasion. We've paired them with our brand new Wadswick Paris skirt and v-neck jumper for a smart classic country look and finished off the outfit with an on-trend fedora.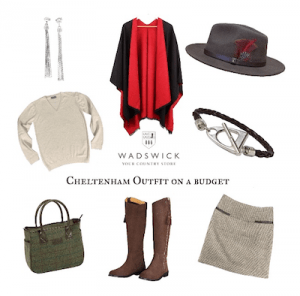 Outfit 4: Men's Cheltenham Festival Outfit
What should men wear to the Cheltenham Festival? Well, you can't go wrong with bringing out a bit of classic tweed at the races. Choose from traditional greens or go for a more modern look with blues and greys such as this tailored jacket from Magee. Top tip: Tweed is slightly warmer than your average material so great for keeping the March chill at bay! Keep it stylish by pairing with tailored shirts and trousers.
Waterproof waxed, quilted or tweed jackets will all keep you warm and dry while still looking the part.
Smart accessories and footwear will finish off any outfit in style. Take a peek at the Wingfield Digby range to find a suitable silk tie or pair of cufflinks and the ever-stylish Fairfax & Favor collection for a range of great footwear such as our chosen Bedingfeld shoe in the outfit below. If the weather isn't looking great, try a smart boot such as the Fairfax & Favor Chelsea to see you through the day in both comfort and style.
Don't be afraid to let individuality shine at the races even if it's just in the accessories.